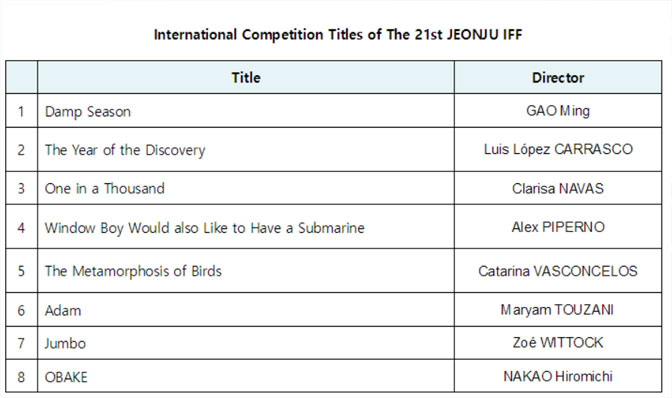 - 8 International Competition films are introduced with this year's slogan, Cinema, Liberated and Expressed

The 21st JEONJU International Film Festival (JEONJU IFF, Festival Director LEE Joondong) revealed the 8 films for its International Competition. The section has first or second films by eight new directors who have unique visions and styles.

Chinese director GAO Ming's Damp Season is about the relationship between four men and women in a season when the humidity rises beyond 90% and makes us feel uncomfortable. Luis López CARRASCO´s The Year of the Discovery is a unique documentary set in a bar in the industrial city of Cartagena in southern Spain, where the local parliament was burned down in 1992 and they suffered a socio-economic crisis. Argentine-born Clarisa NAVAS One in a Thousand tells a love story between two girls in a ghetto area where is neglected by their country, despite social prejudice and prevalent hatred. Window Boy Would also Like to Have a Submarine by Uruguayan director Alex PIPERNO is a film about a hidden door in a cruise ship that allows one to jump from one space to another with mystical and fantasy-like visuals.

The Metamorphosis of Birds by Portuguese director Catarina VASCONCELOS is about the relationship of father and daughter combining the elements of documentary and fiction. Next film is Moroccan filmmaker Maryam TOUZANI's Adam. The film delicately captures the friendship between a middle-aged woman who raises a child alone and a pregnant single mother, complicated emotions, and the process of this middle-aged woman. Jumbo by Belgium director Zoé WITTOCK portrays a girl named Jeanne who works at a theme park because of her love of carousels and falls in love with a new ride called Jumbo. And last but not least, Japanese director NAKAO Hiromichi's OBAKE is sort of a confession of introducing the director's working process, as well as his resume.

These brilliant and unique films of young filmmakers for the International Competition will be screened at the 21st JEONJU IFF, which will be held as an exclusive edition with a minimum number of filmmakers and jury members, from May 28 (Thur) to September 20 (Sun).